24 Hour Emergency Service
Tree Removal
Professional Tree Removal Service

When a tree is damaged from a storm or diseased beyond repair, it becomes hazardous and tree removal may be required.
All tree trimming or tree removal work within ten feet of a power line must be done by trained and experienced lined-clearanced tree trimmers.
Tree removal requires considerable expertise to make sure that the tree is removed safely. Hazardous trees have the potential to cause property damage, personal injury, or fatality.
GP Tree Service performs a hazard assessment of the work area before starting your tree removal service to ensure the safety of both your person and property.
Tree hazards include dead or dying trees, dead parts of live trees, or unstable live trees due to structural defects or other factors that are in striking distance of people or property.
Our tree professionals, experienced in risk assessment, carefully examine each tree and document tree defects to eliminate exposure to hazards at the tree or surrounding areas.
When rating trees for hazard, GP Tree Service determines whether loss from failure of a tree could be reasonable expected to occur in four steps.
1. Determines target zones to see if the tree could hit a major trail, structure, parking area, campsite, or other target.
2. Assesses the tree for defects from three different perspective, close, far, and all around, applies necessary tests, and documents all observations.
3.Calculates the hazard rating score according to both experience and sound judgement.
4. Determines corrective action for either the tree or the target.
After the tree removal is complete, GP Tree Service provides a thorough clean up of debris and offers stump removal service at your request.
If you are looking for a professional tree removal service in the Canton, Massillon, Cuyahoga Falls, or surrounding Ohio areas, contact GP Tree Service to be assured that your assets are protected.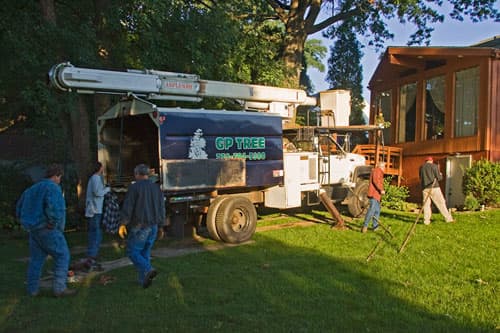 ;