24 Hour Emergency Service
Tree Diseases
Tree Diseases
Though their hearty bark and exteriors can defend them from a majority of attackers, a sick tree is a common occurrence in Ohio. As with any illness, some trees are more susceptible than others so it helps to be aware of the tree's species.
There are a many causes of such tree illnesses like:
Inadequate environment
Bacteria
Fungus
Insects
These are all enemies of your trees.
There are a number of tree diseases and illnesses that we encounter on a normal basis here at GP Tree Service. To help identify some of these common conditions we've provided a brief description and photos of Fire Blight, Anthracnose, Powdery Mildew, and Leaf Spots.
Fire Blight
The name is not so misleading in the sense that this disease seems to spread from tree to tree like wild fire. Fire Blight is caused by bacteria that can easily be transferred to other trees through wind, water, insects and even pruning. Affecting mainly fruit trees like apple and pear trees, this is a disease that causes some major damage, especially for orchard owners. It can kill a single tree or a grove of trees very quickly. The flowers and new leaves of the trees are affected first making them wilt and turn brown and black. The leaves will stay on the stems and branches of the trees, but will curl. Affected areas often appear black, shrunken and cracked. The end result is a tree that looks as if it has been scorched by a fire, hence the name.
Anthracnose
The term Anthracnose refers to a number of fungal diseases of trees. This infection causes the leaves of a tree to fall off prematurely. The infection develops during cool and damp weather, and normally never spreads during dry conditions. The leaves become contorted and grotesque, curling and showing brown blotches and spots. The leaves almost look scorched in appearance. Though this infection is not likely to kill a tree, it will weaken it and the tree will be quite bear when it's canopy should be full.
Powdery Mildew
No it's not powdered sugar on your trees, it's mildew! Over 1,000 different fungi cause powdery mildew in plants and trees. It is spread most easily in cool weather with high humidity. The white or gray residue often affects older leaves first, then takes its toll on new shoots and sprigs causing the new leaves to curl while twisting the branches and shoots. Although mildew will cause some deformity to the growing tree, it normally does not kill a tree. But, then again, it does substantially affect the trees ability to recover during harsh times like winter.
Leaf Spots
They come in all shapes and sizes, but no matter how they appear, there's no doubt that leaf spots are ugly. A regularity in Ohio, fungal leaf spots usually cause minimal damage and normally do not require fungicides. Leaf spots can appear from one year to the next. When the tree loses its leaves in the fall, if the leaves are not removed from the area, they will re-infect the tree in the following spring. Because fungal leaf spots spread like this, raking up the leaves and removing them from the area is the best preventative step to take from season to season. Tar spots and frogeye leaf spots are two of the most common kinds of leaf spots. Tar spots are commonly found on maple trees. During spring they appear as yellow-green circles and by late summer the spots have become tar like. Frogeye leaf spots are commonly found on crabapple trees. The spots start out as a tan color, bordered by purples and reds. As the season progresses, the spots become larger and the inside turns grey. The spots are said to too like the eyes of a frog, hence the name.
If you notice any abnormality or signs of the above conditions occurring in or on your trees in the Akron or surrounding Ohio areas, contact GP Tree Service.
We have what you need to keep your trees looking beautiful for years to come. Remember, there's no job too big or too small, GP Tree handles them all!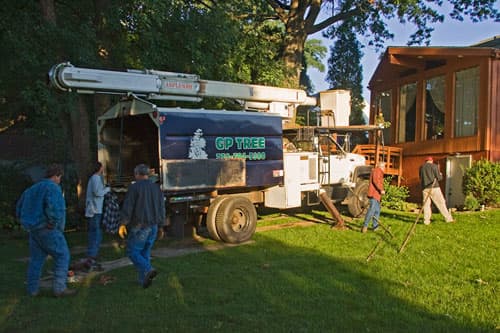 ;